Apple Hinders the Development of Crypto
Brian Armstrong, the CEO of a digital currency exchange Coinbase, in a series of tweets, expressed his opinion that Apple, by its actions in the App Store, slows down the development of cryptocurrencies, as well as global technological progress.

Image Source: Twitter @brian_armstrong
The biggest criticism comes from Apple's ban on earning money through the Coinbase app using cryptocurrency and accessing decentralized finance applications and websites.
By setting restrictions, Apple forces Coinbase users to take a long chain of actions (to use the app, then exit it and use the web, then return to the app), although this could have been avoided.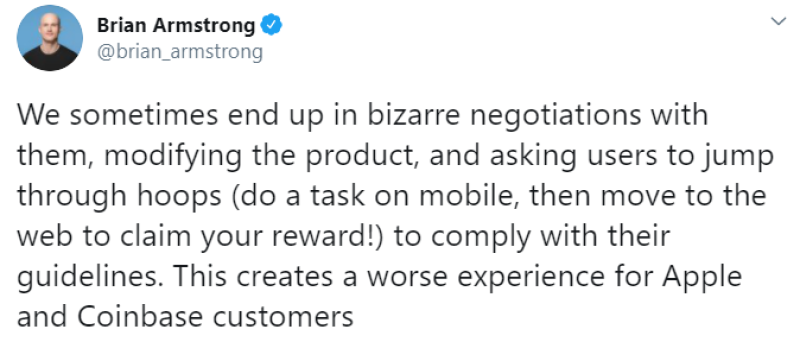 Image Source: Twitter @brian_armstrong
Apple Blocks Apps to Protect Itself from Competition, not to Support Users
Besides, he believes that imposing such restrictions appears to generate a conflict of interest. Mr. Armstrong believes that this is Apple's attempt to remove its products from the competition, and not the company's declared user protection.

Image Source: Twitter @brian_armstrong
Also, he claims that DeFi becomes a serious part of the financial system. Using them, people around the world can, for example, get a loan if they cannot go to a bank. Thus, Apple gets in the way of technological progress and better living conditions.
"There are many unbanked and underbanked people in the world who have no ability to get a loan to buy a home, or start a business, so this kind of technology has enormous potential to improve the world over time, even if it is still early days." Brian Armstrong via Twitter
Apple Acting Like Microsoft 20 Years Ago
Moreover, he warns that Apple's actions are similar to those of its competitor, Microsoft, dated back about 20 years ago.

Image Source: Twitter @brian_armstrong
The company forced users to use their Internet Explorer browser, depriving them of alternatives. This ended in an antitrust proceeding.