Bitcoin's Bulls are Strong Enough
Cryptocurrencies are having a solid positive start of a new week, even a rebound is already on the horizon. Trading over the weekend, especially for key digital assets, was mostly quiet. Bitcoin held the level of $10,400 for further growth.
The price of Bitcoin has fallen twice in the past week to less than $ 10,500. The first decline occurred after the BitMEX exchange received charges from the US commodity futures trading Commission (CFTC) for selling unregistered securities.
The Bitcoin's price decreased in two hours by more than 4 percent, the level of volatility that it usually never experiences.
On Friday, Bitcoin reacted negatively to the news of Donald Trump's positive test for COVID-19.
The Recovery of Bitcoin's price
Despite the slow price movement over the weekend, the first cryptocurrency resumed its growth. During the Asian market on Monday, the BTC/USD pair rose above $10,700 and fell to the current market value of $10,685. Bitcoin's growth is held back by the 50-day moving average (SMA).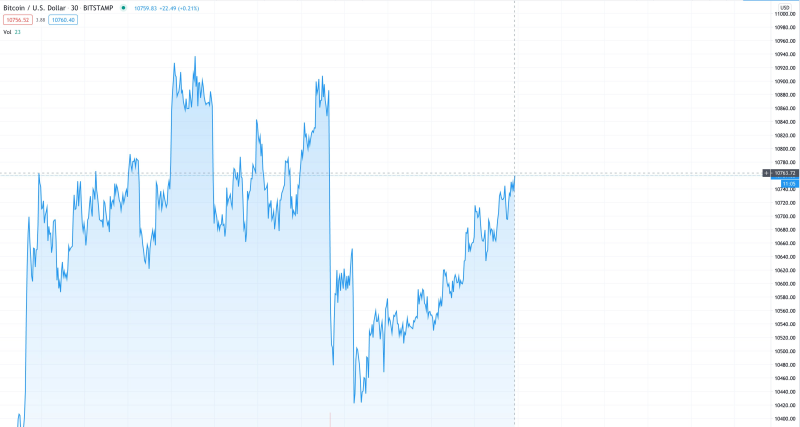 Image source: Twitter @Excellion
"Trump getting COVID" and "BitMEX CFTC" dips have almost been erased. We're back on track towards a $1 trillion dollar #Bitcoin market cap. Samson Mow @Excellion via Twitter
A look towards $11,000 shows a resistance zone, the most noticeable of which is in the range between $10,670 and $10,980. Orders for almost 1.6 million addresses that bought approximately 850,000 BTC are concentrated here.
It was possible for Bitcoin's stock to rebound from a late-week downturn to finish the week close where it ended. The number of non-zero BTC addresses has reached an all-time record in the past week. An onchain analyst Willy Woo stated that while Bitcoin means on-line calculations, new buyers "keep rates down for uncontrolled trading games on derivative platforms."
The analysts believe that the price of Bitcoin will update its historical peaks, but this time it will take longer. This can be based on the extended growth cycles of Bitcoin.