However, successful crypto arbitrage trading requires more than just basic knowledge of the market. It demands effective strategies that can help you navigate the complexities of the crypto world and boost your earnings.
In this blog post, we will explore effective strategies for crypto arbitrage trading that will help you achieve your trading goals. From understanding the intricacies of crypto arbitrage trading to choosing the right exchanges, analyzing price differences, timing your trades, and using a crypto arbitrage bot, we've got you covered. So, buckle up and get ready to take your crypto arbitrage trading to the next level!
Understand How It Works
To excel at crypto arbitrage, it's essential to understand how it works. Knowing the intricacies of the process is key to ensuring profitable trades.
As previously mentioned, crypto arbitrage involves buying a cryptocurrency from one exchange platform and selling it at another platform where it's more expensive. For instance, if you choose Coinbase and Binance as your exchange platforms and Bitcoin as your cryptocurrency, you would buy Bitcoin from Coinbase at a price of USD$20,000 and sell it on Binance at a price of USD$20,050. This results in a profit of USD$50.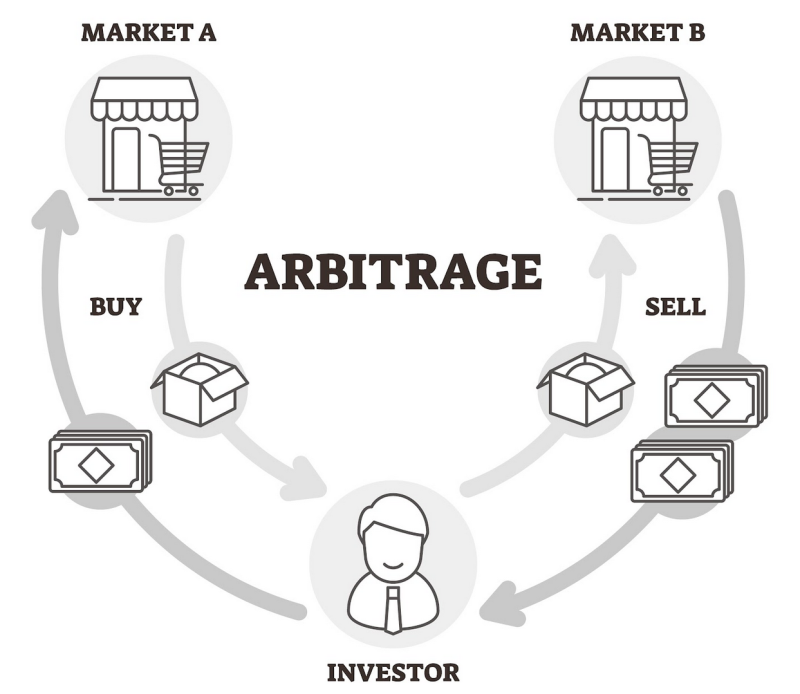 In addition to understanding how crypto arbitrage works, it's important to consider how exchange platforms price cryptocurrencies. Some platforms base their pricing on the current demand for cryptocurrencies, while others copy the prices of other platforms. By learning how exchange platforms price cryptocurrencies, you can predict the price of a given cryptocurrency in advance, allowing you to make timely purchases and sales for maximum profits.
Choose The Right Exchange Platform
An exchange platform is a crucial component in the world of cryptocurrency trading. It allows users to buy and sell cryptocurrencies using alternative cryptocurrencies or fiat money, making it the center of crypto arbitrage. However, with so many exchange platforms available, it's essential to choose the right one that suits your trading needs.
One of the most critical factors to consider when selecting a cryptocurrency exchange platform is its legitimacy. Online scams are rampant, and you need to avoid falling victim to them. You can check the legitimacy of an exchange platform by looking at its reputation. Do their previous and current users complain about losing their money? If yes, it's best to avoid the platform and choose another.
Another crucial aspect to consider is security. Since you'll hold your money on these platforms in wallets, you need to ensure that your wallet is safe. Read the platform's data privacy policy and the security systems they have in place. This will help you gauge the platform's security measures and avoid losing your hard-earned profits to a cyber-attack.
Minimize Costs
The main goal of crypto arbitrage trading is to maximize profits, and the costs you incur while trading directly impact your earnings. Thus, it's crucial to be mindful of the expenses you'll incur when trading Bitcoin and other cryptocurrencies.
Since crypto arbitrage trading involves buying and selling across platforms, you'll likely incur deposit, withdrawal, and trading fees, which can significantly affect your profits. Therefore, it's essential to minimize these expenses as much as possible.
One way to reduce fees is by spreading your funds across several exchange platforms instead of using just one. This approach reduces deposit and withdrawal fees, reducing your overall trading expenses.
Another way to reduce trading fees is by choosing an exchange platform that charges less. By comparing the trading fees of several platforms, you can identify the most affordable one and save on your expenses.
Time Your Trades
When it comes to crypto arbitrage trading, timing is everything. A slight delay in executing your trades can lead to significant losses. Therefore, it's crucial to time your trades correctly to ensure you make the most profits.
One way to time your trades is by monitoring the market closely. Keep an eye on the prices of different cryptocurrencies across multiple exchange platforms. By doing so, you can identify price discrepancies and take advantage of them immediately.
Use Trading Bots
In recent years, the advent of automated trading bots has made crypto arbitrage trading easier and more efficient. These bots are computer programs that are designed to execute trades on your behalf based on pre-set parameters.
One significant advantage of using automated trading bots is that they can monitor multiple exchange platforms simultaneously, 24/7, without any human intervention. This means that you can take advantage of market inefficiencies quickly and efficiently.
Another advantage of using automated trading bots is that they can execute trades faster than humans. They can analyze market data and execute trades within seconds, which is crucial in the fast-paced world of crypto arbitrage trading.
However, it's essential to note that not all automated trading bots are created equal. Some bots may be poorly designed, leading to losses instead of profits. Therefore, it's crucial to research and choose a reliable and reputable trading bot that has a proven track record of success.
Conclusion
Crypto arbitrage trading can be a lucrative investment strategy for those who are willing to put in the time and effort to research, analyze, and execute trades. By taking advantage of price discrepancies across multiple exchanges, traders can potentially earn profits with low risk.
However, it's essential to understand that crypto arbitrage trading isn't without its risks, and traders must be prepared to handle them. It's crucial to stay informed about market trends, news, and events that can impact the price of cryptocurrencies and affect arbitrage opportunities.
Moreover, traders can leverage the power of technology by using automated trading bots to execute trades quickly and efficiently.