The shares of Zoom, a communications technology company that provides video telephony and online chat services, plunged by 5.5% in one trading day.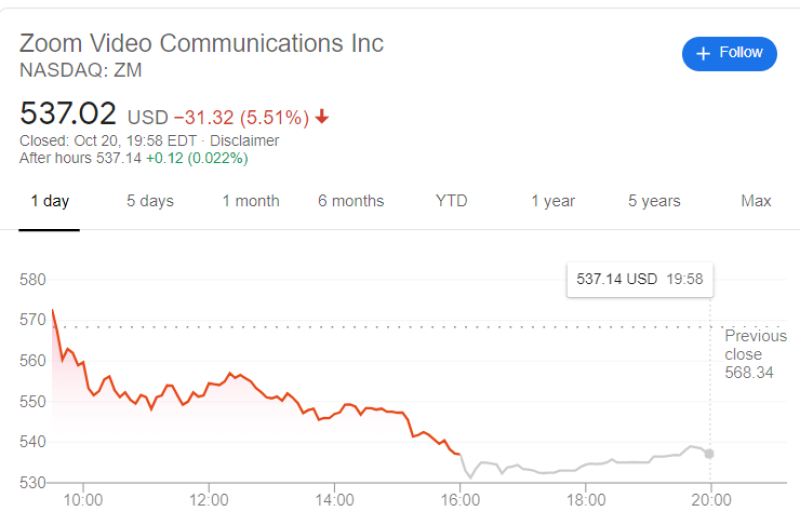 Image Source: Google Finance ZM
There's Nothing to Worry about, the Growth Will Continue, the Trader States
@afortunetrading, a trader and a market analyst, believes that this drop is due to the sharp increase last week, and now there is a backtest. He believes that the share price could drop to around $ 530, after which the upward cycle will continue.
$ZM - Keep on watch $530 back-test of breakout area. Few days for it to back-test and base and ready for move higher again. @afortunetrading via Twitter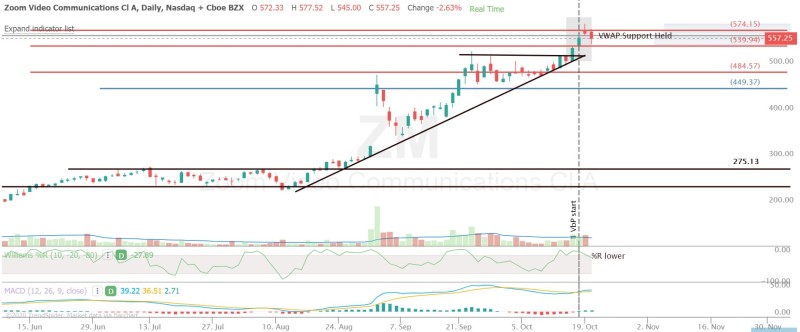 Image Source: Twitter @afortunetrading
Last Week's Growth and Zoomtopia Event
It should be noted that the growth amounted to 15% over the previous week. The main trigger for growth was the annual Zoomtopia event.
New products, such as OnZoom, a new event platform, and Zapps, a new application store were presented to the audience there. Also, high hopes are pinned to Zoom Phone, a service from the company that allows users to make calls without using video. Analysts suggest that this particular product will allow the company to continue its growth and compete with such industry giants as Microsoft and Alphabet.
Besides, the rally continued after it became known that the ARK fund, managed by Cathie Wood, acquired more than $125 million worth of Zoom's shares. Considering that the shares were purchased near their all-time highs, experts suggest that this may indicate the extreme conviction of ARK managers that the long-term growth in the company's share value will continue.