Warren Buffett Bought 1.2% of Barrick Gold Stocks
Warren Buffett's investment fund, Berkshire Hathaway, acquired shares in the gold mining company Barrick Gold during the second quarter. According to Bloomberg, the acquisition totaled $ 565 million. About 21 million shares were purchased, or 1.2% of their total amount.
The fact that Buffett acquired shares after the price of gold rose to record levels may indirectly indicate that the Oracle of Omaha believes in the continuation of the bullish rally in gold prices.
It is worth to note that earlier Buffett was strongly against  the purchase of shares of gold mining companies, as he considered it be speculation, not an investment:
"If you put your money into gold or other non-income-producing assets that are dependent on whether someone else values that in the future, you're in speculation. You're not into investing." Warren Buffett, 2013
GOLD Price Increased During the After-Hours
Barrick Gold shares are up by more than 8% during the after-hours trading. The company's shares fell significantly earlier this week. This happened on the day the report has been published, even though it was extremely positive. The reason was a sharp drop in gold prices, a record over the past few months.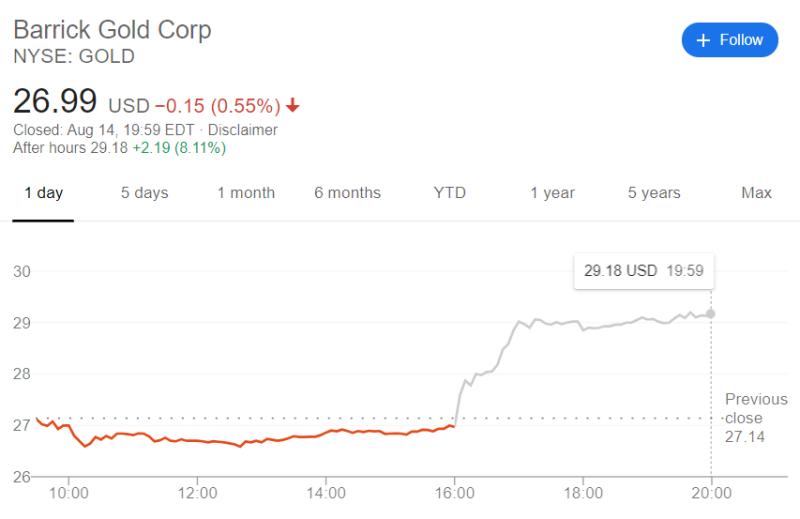 Image Source: Google Finance GOLD
Buffett's Investment Will Legitimize Gold in the Eyes of Portfolio Managers
According to Peter Schiff, the CEO of Euro Pacific Captal fund, such a move on the part of a world-renowned investor will allow gold, in general, and companies in the gold mining industry, in particular, to legitimize it in the eyes of portfolio managers.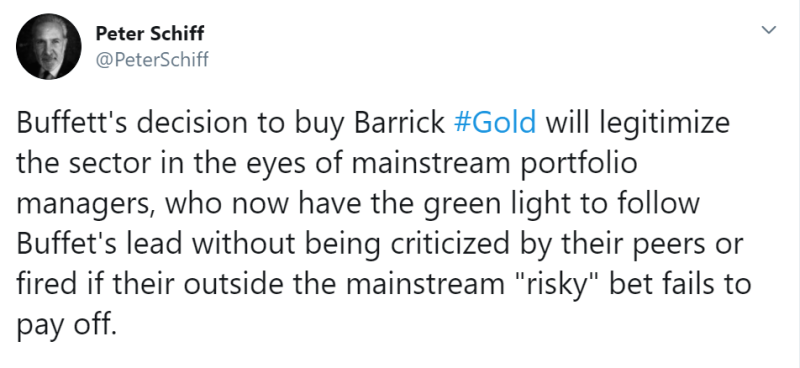 Image Source: Twitter @PeterSchiff
He believes that managers used to avoid these assets because they were afraid to use a non-conservative strategy associated with high risks. However, Buffett's authority alone will be enough for managers to be led by his example and pay closer attention to gold.