Investors responded hesitantly to the announcement of earnings for the second quarter, launching the stock sale report of an apprehensive decline in the third quarter. Comparable US sales rose by 9.3%, as e-commerce grew by 97%.
Overall sales grew by 5.6% from $137.7 billion and an average profit per share fell by 23% to $1.56 billion, quick to reach $1.25 in prospects. Profits increased with an increased margin, losses in the e-commerce sector reduced, and additional incremental expenses were overstepped by a further $1.3 billion.
Nevertheless, investor sentiment remains subdued as concerns about the upcoming lockdown of the economy are in the air. The company's shares continue to fall by more than -4% for the second day in a row.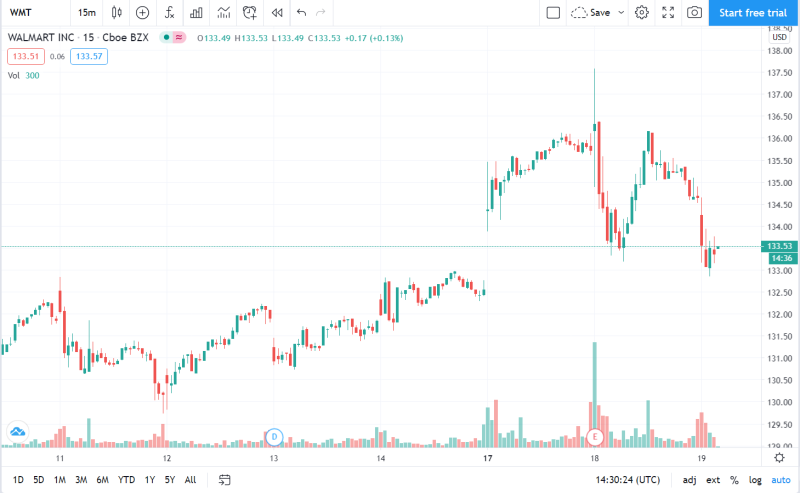 Image source: TradingView WMT
Six percentage points of the 9.3% comparable increase in U.S. e-commerce revenues and three digits of Walmart's revenue growth in the year. This enterprise is crucial for its future and profits in e-commerce.
Amazon's market has become one of the most profitable companies and remains one of the greatest opportunities for Walmart, in particular because online sellers are eager to oppose Amazon's dominance. In June, Walmart announced a partnership between Walmart and Shopify that would bring 1,200 salespeople on the market, setting the stage for further third-party growth.
The company has also seen significantly lower e-commerce losses in this quarter because of the market growth, higher sales and growth in higher-margin categories such as home and equipment, which were key drivers in the quarter's profit growth. The U.S. e-commerce revenues were reported to be 10 billion dollars a year, making Amazon clear the first-biggest e-commerce company in the U.S.
Walmart was already thriving throughout the second quarter, but government grants obviously boosted the company's success and the remainder, as was the retail market. The sales of Walmart and his business rivals would most likely decelerate during the third quarter without another stimulus package from Congress.