Highest Chinese Car Registrations
Almost 15,000 new Tesla electric cars were registered in China in June, according to Bloomberg. This is 32% more cars than were registered in May. It is also a record figure for Tesla, which at the beginning of the year began making deliveries from a plant in Shanghai.
China's low-cost car market is slowly recovering from a two-year collapse, while wealthier buyers are increasingly turning their attention to Tesla's electric cars. There are about 50,000 Tesla's EV's registered in China so far.
Target Price is Doubled by Credit Suisse.
According to Tesmanian blog, Credit Suisse has increased Tesla's target price. Analysts have doubled the target price from $700 to $1,400, although they do not exclude a price increase to $ 2,300 in the most favorable scenario.
Nevertheless, the report notes that, at the moment, Tesla is not in a very stable position, so any negative information is likely to lead to a short-term collapse of quotations.
Investors' opinion.
Gary Black, a former CEO of Aegon Asset Management, also expects Tesla's price to continue the bullish rally soon.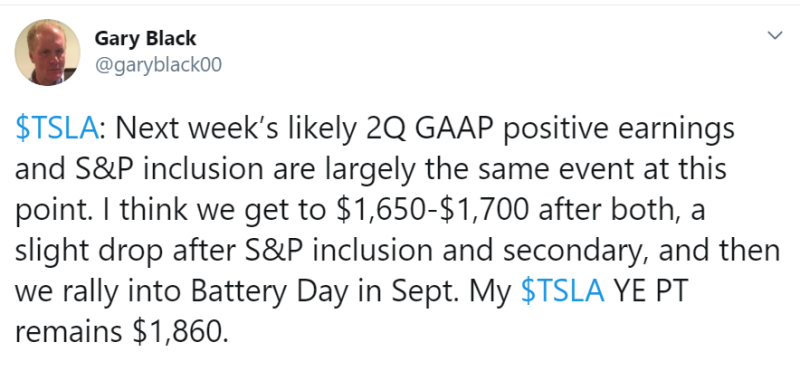 Image Source: Twitter @garyblack00
He attributes this to the quarterly report which is being released next week and is likely to be favorable given the rise in sales in the Chinese market. He also believes that a successful report automatically means the inclusion of Tesla shares in the S&P 500 index.
Both of these factors will push the stock higher, so the price will reach $1,700, and then, by the end of the year, will rise to  $1,860 after the Battery Day, which Elon Musk moved to September 15th.