Today, June 4, traders don't seem as optimistic as they were yesterday. While the S&P 500 took out the $3,100 level, the futures have been declining after the market closed. Is it a sign that the market starts to look at what happens on the main street?

S&P 500 Futures. Courtesy - MarketWatch.
During yesterday's jump, SPX almost reached $3,130, ignoring the unrest in the U.S. and the economic turmoil that started at the beginning of the year. However, today's futures are cooling off, almost dropping back to $3,100 after forming a double top figure.
Meanwhile, the volatility index (VIX) that reflects traders' uncertainty starts to show signs of growth. Notably, VIX has been continuously dropping since June, 1.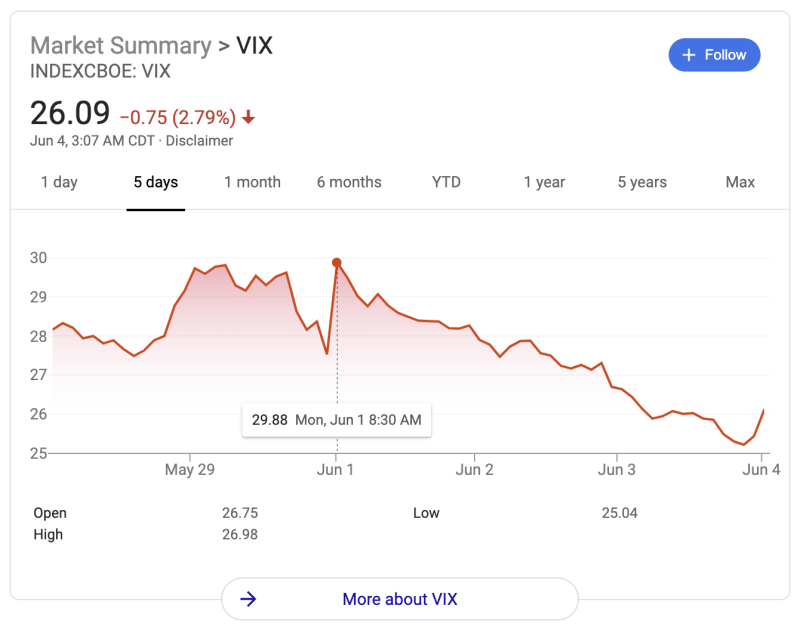 VIX. Courtesy - Google.
The drop in SPX futures is followed by other major indexes, including Dow Jones, Nasdaq, and Russel 2000. This creates a bearish outlook on the upcoming trading session.
The opinion of chief economist of Moody's Analytics, Mark Zandi that "the recession is over" received substantial media attention yesterday. While his positive outlook was supported by the market, some analysts and experts have a different point of view.
Analysts are not the only ones having concerns about economic recovery. The recent survey by CNBC revealed that millionaires don't expect the V-shaped recovery and prefer to stick to their cash for at least a year.
As the stocks are looking to write-off the losses in Q1, 2020, the gap between the market and the real economy widens. Even people not affiliated with equities point this out. The most recent example is a tweet from a stand up comic Tim Dillon.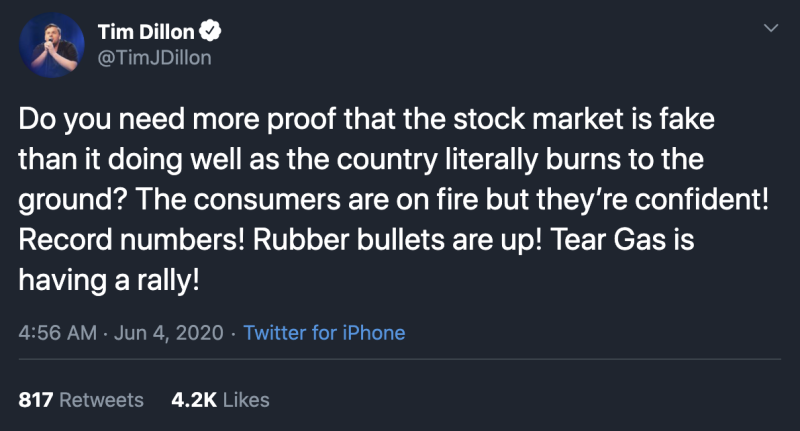 Tim Dillon On The Stocks' Growth. 
While the U.S. is engulfed with riots and industries are struggling with recovery, the stocks have been in a stable rising trend. Given the recent decline in the key levels, we may see this trend starting to reverse.