Marathon Petroleum Corporation is a petroleum refining, marketing, and transportation company based in the U.S. According to analysts, there are two events affecting the shares of this oil company today.
Speedway Sale Deal
First, over the weekend, the company announced the sale of its Speedway petrol stations business to the Japanese company 7-Eleven. It is owned by Seven & I. A Japanese retail giant has the largest acquisition in its history with a $21-billion price of the deal.
However, experts are questioning if this transaction is beneficial for the Marathon. Selling its petrol stations will leave MPC far more reliant on refining operations in an era, where demand for oil has not recovered yet and is unlikely to reach pre-pandemic levels until the beginning of 2021.
Smaller 2Q Losses
Second, the company's losses in the second quarter were lower than expected. Marathon Petroleum Corporation reported adjusted earnings of -$0.87 billion, or -$1.33 per share, while experts had expected the company to earn -$1.75 per share. Nevertheless, this data still represents negative outcome. On the whole, the oil industry is currently not in the best shape, and there is a lot of uncertainty in regards to its prospects.
The Fall of MPC Stock Price
Today at the premarket shares showed a jump of 9%, however, they could not fix at the new price and the opening took place at lower values. Despite this, the stocks were showing growth during the first hours of the main trading session. However, at the moment they have fallen by almost 1.5% below the opening price, having lost all the recovered growth.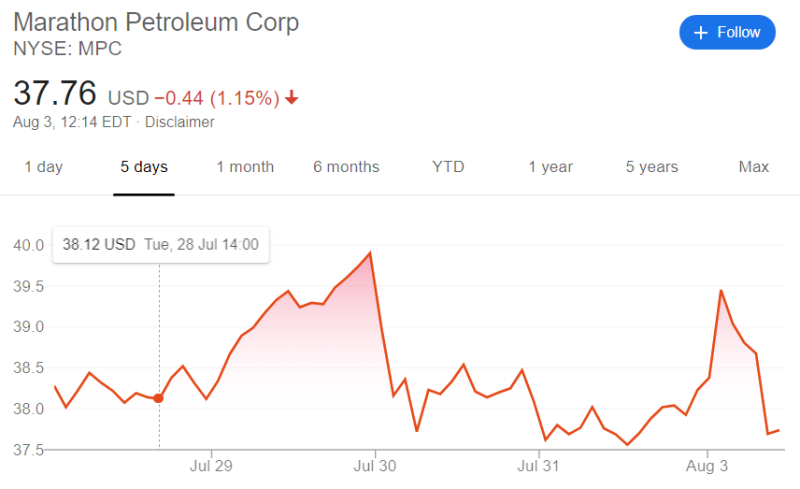 Image Source: Google Finance MPC