SPX Hits the First All-Time High Since the Early September
One of the most famous US stock market indices, the S&P 500, which includes 600 stocks, closed on Friday with a rise of 48 points, or 1.36%. Since the beginning of November, the growth has already amounted to more than 9%.
Holger Zschaepitz, the market analyst and author of Die Welt, notes that the S&P 500 set a new all-time high on Friday for the first time since early September when the index peaked after an incredible summer rally.
S&P 500 closed at ATH for 1st time since Sep.2. The index rose 1.4% to 3585.15, bringing its gain for Nov to 9.6%. Holger Zschaepitz via Twitter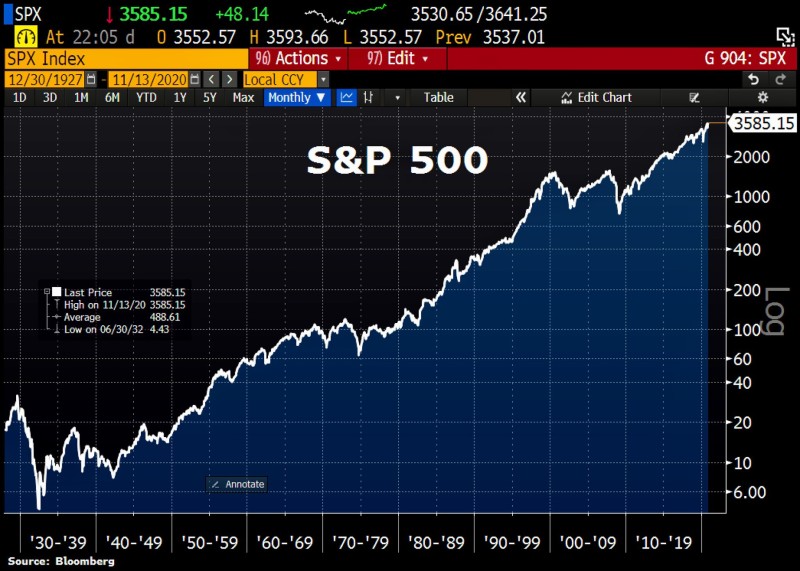 Image Source: Twitter @Schuldensuehner
Along with the fall, new shocks rained down on the American market, leading to one of the sharpest and fastest corrections in the entire history of observations. In just two weeks in the first half of September, the index fell more than 5%. In just a month, the correction amounted to almost 10%.
The Record Week for The Equities
In addition, analysts note that the past week was a record for the volume of new investments in the equity markets. According to Jesse Felder, the market analyst, the vaccine announcement by Pfizer has led to one of the most successful weeks in terms of inflows in 20 years.
In this case, investment funds played a big role, again entering the shares of companies operating in the real sector of the economy, which will revive after the appearance of the drug and will no longer be shackled by the negative impact of the coronavirus.
'Investors ploughed more into global stock funds in the days after Pfizer unveiled its coronavirus breakthrough on Monday than in any week in at least two decades. The new commitments were driven by large institutional investors.' Jesse Felder via Twitter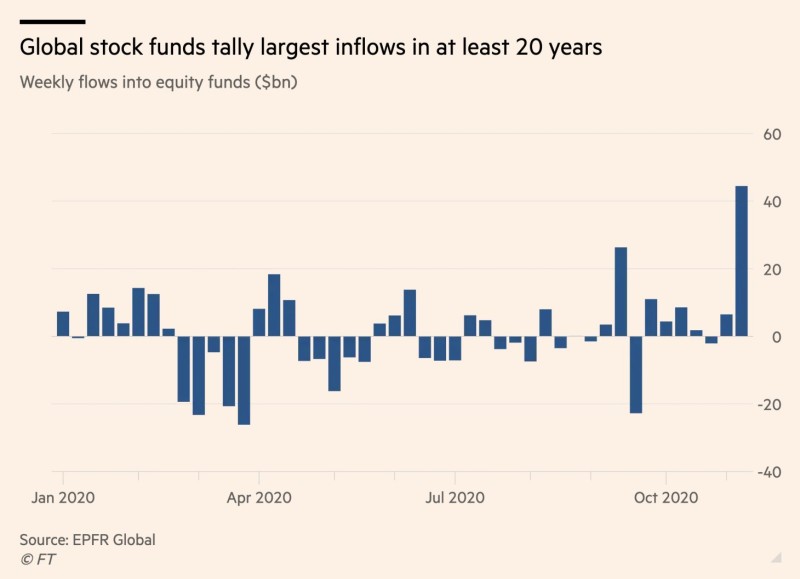 Image Source: @jessefelder
Despite skyrocketing and hitting new all-time highs, the S&P 500 still lags behind another popular index, the Nasdaq, despite its gradual decline in recent days. By the end of the year, the advantage is largely held by technology companies.