In the global foundry sector, Samsung Electronics Co's market share is projected to rise over the next three months as 5G's mobile demand growth is expected.
In the period April-June, Samsung's share in the foundry business was estimated at 18.8%, up from 2.9% three months earlier.
In the second quarter of the year, revenue from the South Korean technology giant was projected to rise 15.7 percent year-on-year to $3.6 billion. This information is based on the TrendForce report.
Samsung stock (KRX: 005930) rebounded slightly on Thursday. However, the price remains in the red zone.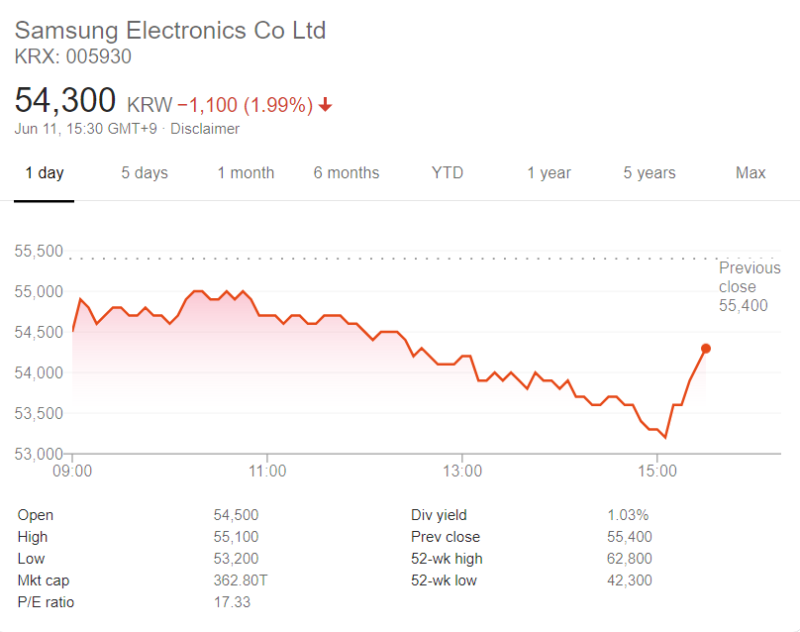 Image source: Google Finance
Taiwan Semiconductor Manufacturing Company (TSMC), Taiwan's leading player and Samsung's competitor, is expected to lose some of its market shares in the second quarter.
TSMC is forecast to have a 51.5% market share in the second quarter, down by 2.6 percentage points 3 months earlier. The business forecasts revenue growth at 30.4% year-on-year and the company earned $10.1 billion in the second quarter.
Total revenue for the top 10 foundries in the second quarter was forecast to rise further by 23.1 percent from the previous year, as the number of wafer launch orders in the first quarter was not significant, with foundry customers stepping up an order in the current quarter, and following a new coronavirus pandemic.