Amazon.com, Inc. aims to recruit corporate and governmental organizations, as they have agreed to launch an initiative to promote the development of cloud computing.
The availability of IT services upon request is cloud storage. The system allowed a person or an organization to access technology services including computing power, storage and databases without the need to maintain large data centers and servers.
Amazon Web Services are used in many business areas and are considered to be a key figure in the Amazon's infrastructure. AWS saves money by attracting millions of companies, political agencies, and even fast-growing startups.
Did the price react to the news?
Amazon's shares were up by 0.52%, being at $2,694.26 in premarket trading. The daily price range was between $2,630.08 and $2,696.79. Its return on investment (ROI) is 11.70%, return on assets (ROA) is 5.00%, and return on equity (ROE) is 17.80%.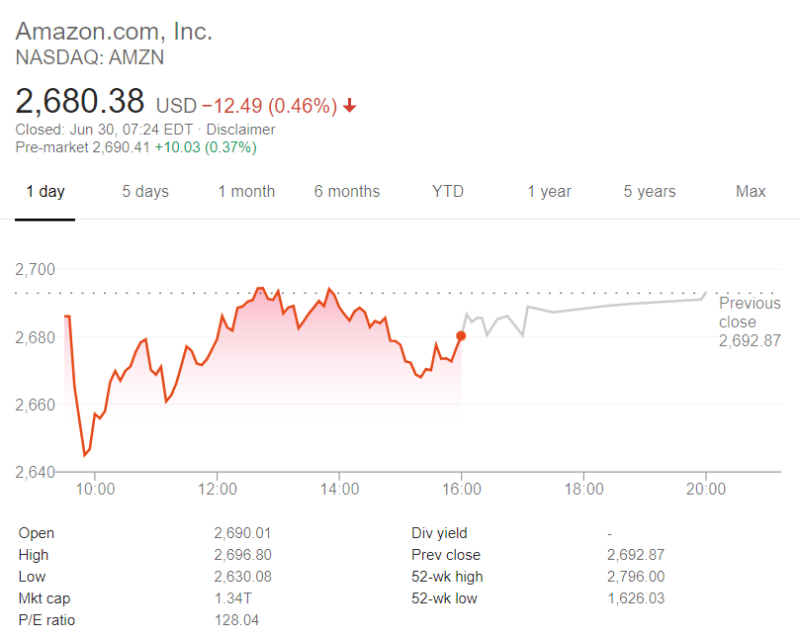 Image source: Google Finance
The price hasn't been significantly affected by this news. Perhaps, the growth in the number of clients among military and commercial space organizations will be seen in time.
Let us recall that many analytical companies evaluated the stock as having good prospects. Agencies gave a "Buy" rating and updated their price goals.