The volume on the Decentralized Exchanges has exceeded the volume on the Centralized Exchanges according to Nicholas Merten (@Nicholas_Merten), the Founder and a CEO of DigiFox finance. According to the expert, this has been a dream since 2017.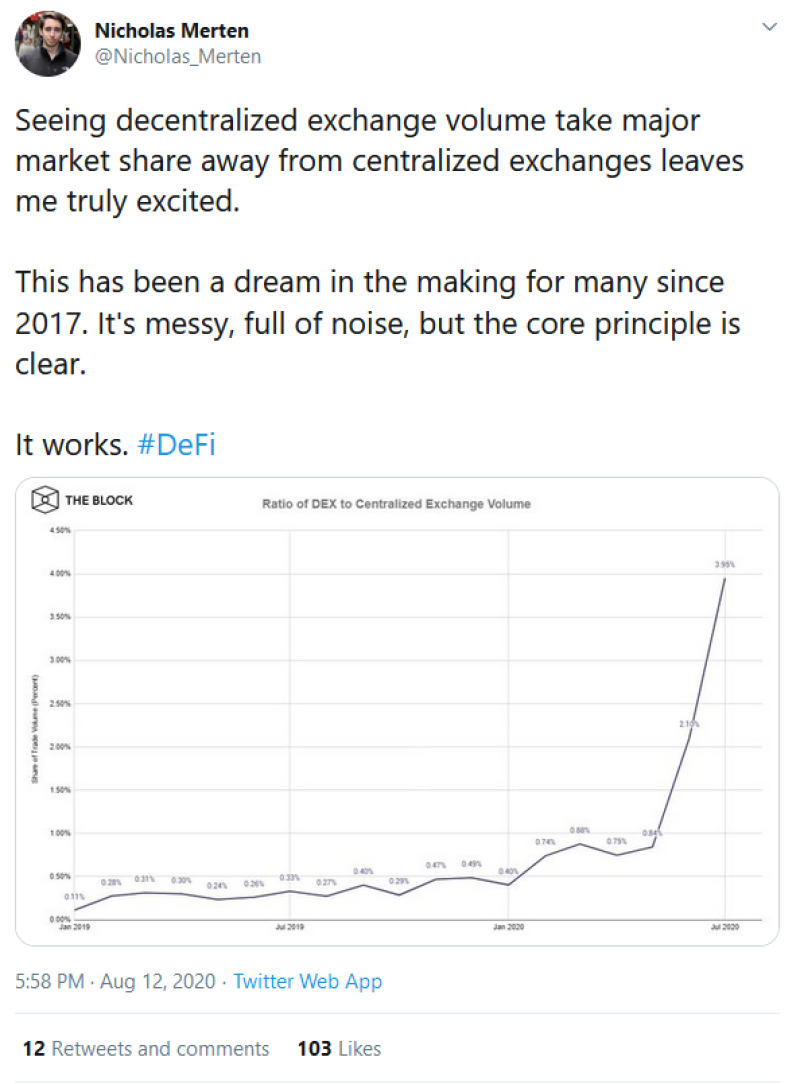 Image Source: Twitter @Nicholas_Merten
What is the Difference Between Centralized and Decentralized Exchanges?
Centralized exchanges were very popular in the past. They offered centralized trading services, they have owners, they are responsible for traders' tokens and they abide by the law. 
Decentralized exchanges are the exact opposite of the centralized exchanges. They do not have centralized owners, the tokens are not accumulated in their wallets and what is even more important, they are not subject to any legislation as they are not considered to be legal entities.
What are the Advantages of Decentralized Cryptocurrency Exchanges?
This type of exchange represents a platform allowing users to have total control over their tokens. This exchange has no intermediates. Decentralized exchanges appear to solve problems that were typical for centralized platforms. Those decentralized platforms are often called peer2peer exchanges meaning users can transfer tokens to each other without an intermediate exchange wallet. 
At the same time, bitcoin lending platforms are actively developing on the market. They are not exchanges in the literal sense of the word but are often built on the same principles. So soon we may see the emergence of new players.
The supporters of decentralized exchanges say that the tokens that you hold on a centralized exchange wallet are not yours. This means that you don't have a key from the exchange wallet and you can't access your coins the moment you want to. There are plenty of risks that you need to consider when using centralized services.