Security analysis conducted by PeckShield Inc. was carried out for the sensational Sushiswap Decentral Farm protocol and some vulnerabilities were identified. Nevertheless, the audit was successfully completed, as the company announced it on Twitter.
PeckShield just completed SushiSwap audit with all identified issues confirmed or fixed. No critical or high severity issues related to the business logics; Two high severity opsec issues need to be fixed by having extra care with deployment. PeckShield Inc. @peckshield via Twitter
Found Vulnerabilities of the Protocol
In essence, analysts were able to identify 13 shortcomings. Only two of them pose a major threat to users and their funds. Other violations aren't that impactful onto the protocol and users.
Some errors were new, while others were very common ones. Here we are talking about errors of too much interaction between different contracts, which increases transaction fees for no reason.

Image source: Github @peckshield
The auditors, after strict checks of the Protocol, stated that its code is well written and clearly structured. Errors that were reported in the check will be taken into account by the team and fixed.
The company also says that smart contracts are still at the earliest stage of development. To make a final decision, you should conduct independent checks before investing in any Protocol.
Community's Response to the Audit
Since the project is quite popular and has great opportunities for both earning and losing money, the community followed the audit to a T.
The reaction of the vast majority was positive. People began to post on Twitter the messages like "soon to the moon" and other positive comments about the project.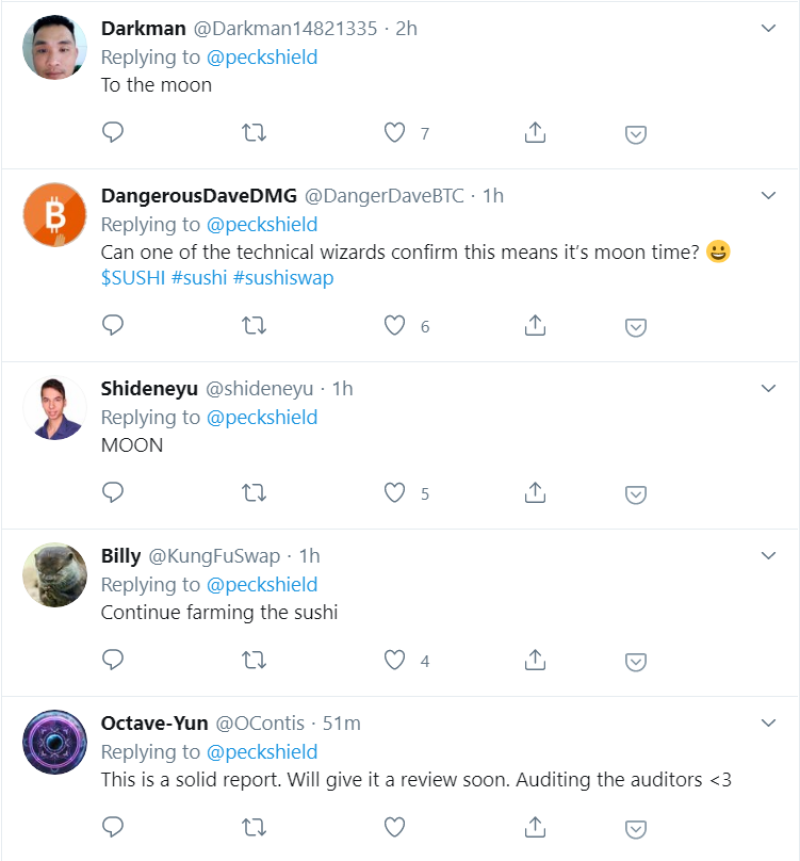 Image source: Twitter @peckshield