An ardent defender and a gold investor, Peter Schiff, said on Twitter that Bitcoin whales are now selling their coins, which are minted by weak hands. Schiff thinks of Grayscale, a fund that invests in cryptocurrencies, as weak hands.
The main product of the fund is the Grayscale Bitcoin Trust (GBTC). In his tweet, the investor stated that all "new" Bitcoins after halving are sent to GBTC speculators. And, thus, weak hands get coins.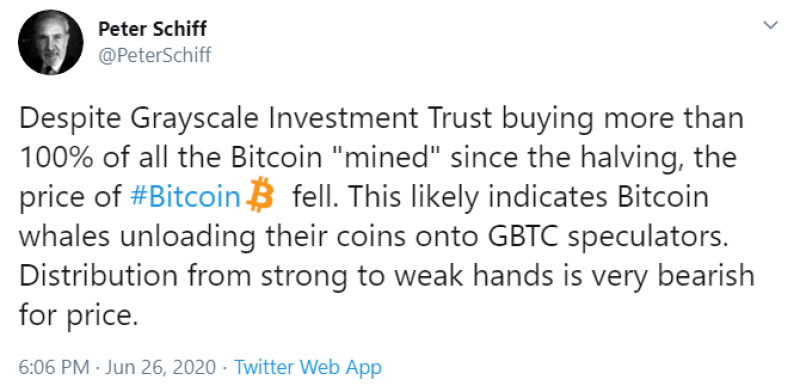 Image source: Twitter @PeterSchiff
Schiff attributes the lack of increase in the price of Bitcoin after halving to the aforementioned speculations. 
A little earlier, Peter released a tweet, where he outlined his guesses about the price of Bitcoin. According to his observations, after the fall of Grayscale's Ether Trust by 65%, the same fate awaits Grayscale's Bitcoin Trust.
As per usual, there were jokes in the comments to Schiff's tweets. Users compared the dynamics of the growth of the Bitcoin exchange rate to that of 2008. At the time, Bitcoin had grown from $1 to the current $9000, while gold, as it cost about $1700, had been kept at the same value.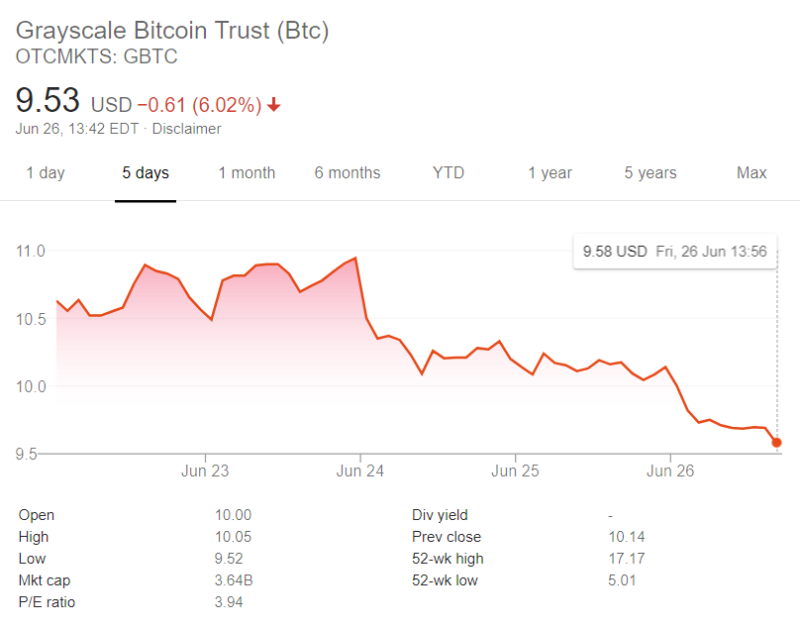 Image source: Google Finance
Over the past week, Grayscale Bitcoin Trust has fallen by more than 5%. The price movement correlates with Bitcoin itself, despite the fact that the prices for Grayscale Ethereum Trust and Ethereum itself were very different from each other.