Blockchain Exploration Lead
NYT, the second largest newspaper in circulation in the United States, posted a job opening for a Blockchain Exploration Lead on its website, seeking a "forward looking leader who will help envision and design a blockchain based proof of concept for news publishers."
An erroneous job posting or a secret revealed? That is on everyone's mind right now. The post was taken down in a matter of hours. This has led many to believe that the blockchain interest by one of the biggest American journalism house was supposed to be a secret development.
The lead role, that the news platform seeks, is to be a multi-talented person, who would work on a proof of concept of having news and other published media on a decentralized ledger, "codify the vision for the research project and share that vision with potential stakeholders at other media organizations" while also be able to "help brand and create a public identity and assets for the project."
The job may have been taken down, but fortunately, a screenshot is now circulating on the internet of the original posting: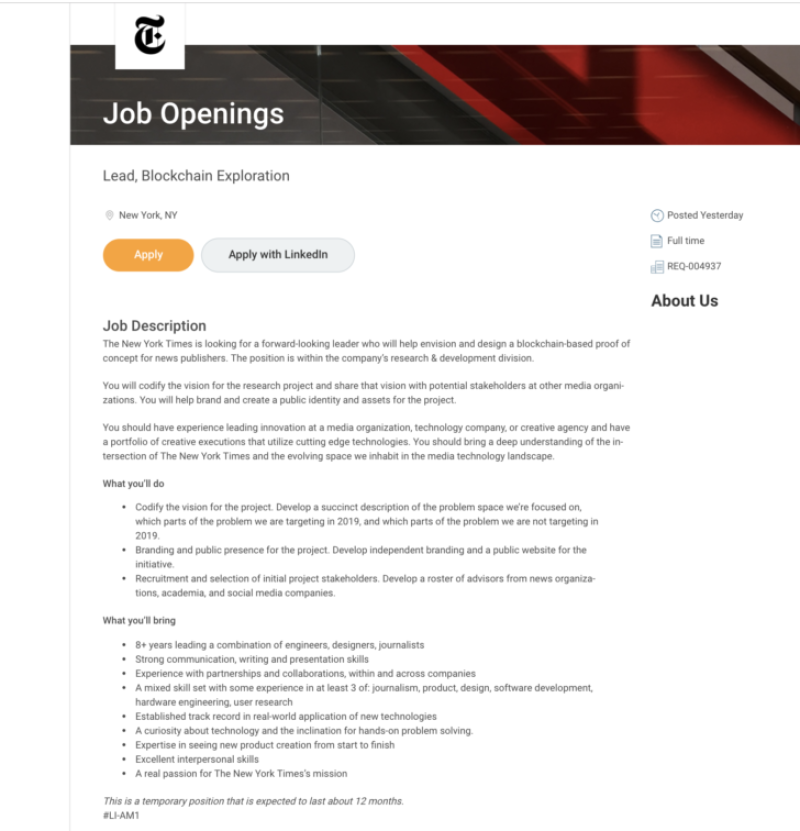 Image source: www.pexels.com
Job Requirements
According to the screenshot of the job opening, the candidate should have more than 8 years of experience of leading a team of engineers, journalists and designers. A strong set of presentation, communication and writing skill is also required.
Understandably, since the position is of a person with knowledge of a cutting edge technology, the Blockchain Lead is also to have a "curiosity about technology and the inclination for hands-on problem solving."
The last requirement (though one of the most important) is to have "a real passion for the New York Times' Mission"
NYT has been covering blockchain and its progression through its journalistic articles for quite some time now. However, it will not be the first journalistic approach to the decentralized technology. The lead here is taken by Civil, a startup that ensures articles and news written by journals are authentic and not edited.