Grayscale Ethereum Trust (ETHE) holders acquire and pay $205 for funds with a value with $21.87. They then pay an unprecedented 837% premium on the underlying securities' net asset value (NAV) in such case Ethereum.
Traders' Irrational Behavior
Actually, certain buyers purchase something under Ethereum's name without investigating what they own. With the prime in ETHE growing all year round, the Fund's investments is really up. Demand for this commodity grew as it was increasingly unrealized.
The founder and a CEO of Compound Capital Advisors, Charlie Bilello, said in a tweet that the price of ETHE has fallen by 84% since the beginning of June. At the same time, the price of the underlying asset, Ethereum, increased by 44% over the same period. He believes that it is better to have the asset itself in the portfolio than a Fund for this asset.
Ethereum is up 44% since June 5.The Ethereum Trust is down 84% since June 5.Know what you own. Charlie Bilello @charliebilello via Twitter
Why Did this Happen?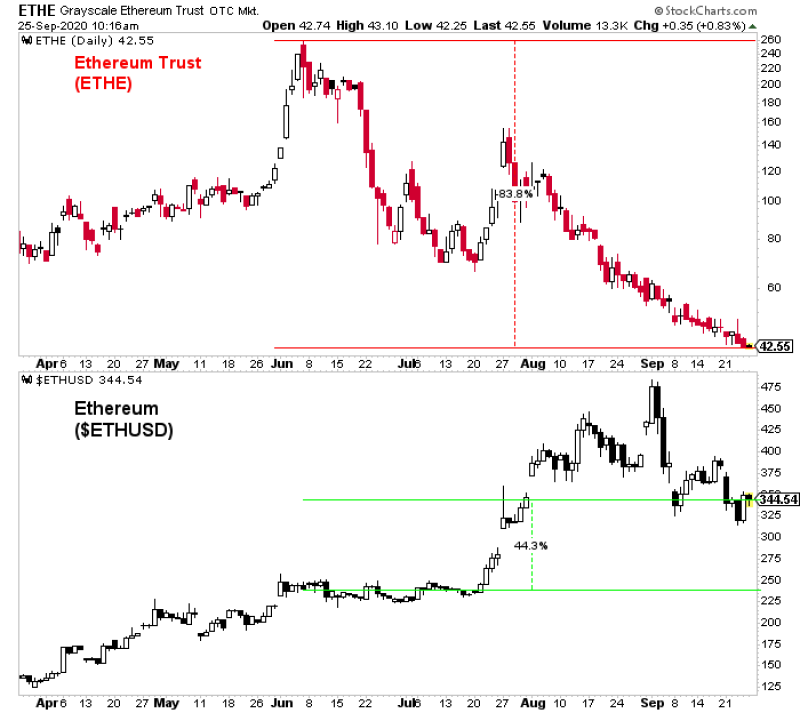 Image source: Twitter @charliebilello
Under EMH theory, no investor would buy ETHE at an 837% premium when they could buy the underlying holdings (Ethereum) at no premium at all. And in a truly efficient market, such a premium would never happen in the first place, as arbitrageurs would have stepped in long time ago, shorting the trust while buying the underlying holdings to earn a "risk-free" profit.