Larry Cermak, Research and Analysis Director at The Block, reacted to Goldman Sachs' Bitcoin call. In general, his take is that the company's skepticism lacks substance. This outlook is supported by Joe Weisenthal from Bloomberg.
Today, May 27, 2020, Goldman Sachs' Investment Strategy Group held a call titled 'US Economic Outlook & Implications of Current Policies For Inflation, Gold, and Bitcoin'. The bottom line for cryptocurrencies was: it is not an asset class.
It is worth noting that in 2018 Goldman Sachs was reportedly gearing up towards becoming the first Wall Street Bank to have a Bitcoin trading operation. However, the plan was then dropped and eventually refuted by the company's CEO.
In the slides available from the call, Goldman Sachs provides a list of cryptocurrencies' drawbacks, including the absence of cash flows, earnings, diversification benefits, and others. Notably, the company considers that Bitcoin does not present evidence of acting as an inflation hedge. This undermines the digital currency's value proposition of being digital gold.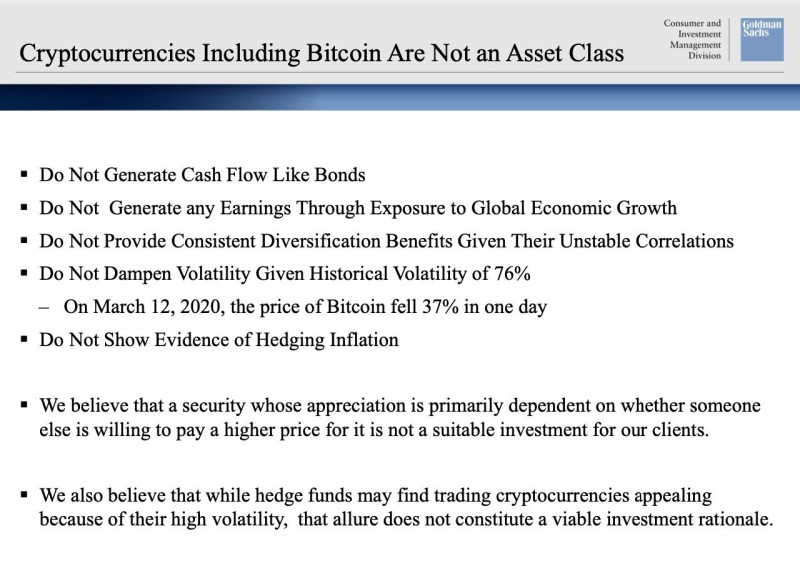 Source - Larry Cermak's Twitter.
Larry Cermack considers Goldman Sachs' summary as 'not super convincing'. He also pointed out that the existence of such a call reflects a high institutional interest in crypto in the first place. Otherwise, Goldman Sachs would not be interested in talking that much about crypto.
Larry's take on the call was retweeted by Joe Weisenthal, who also expressed his concerns over Goldman Sachs' points. He stated that the cryptocurrency market has many weak spots, but they are different from what the company presented. Joe claimed that Goldman Sachs' outlook 'seems like a bunch of warmed over arguments from 2014 (or earlier)'.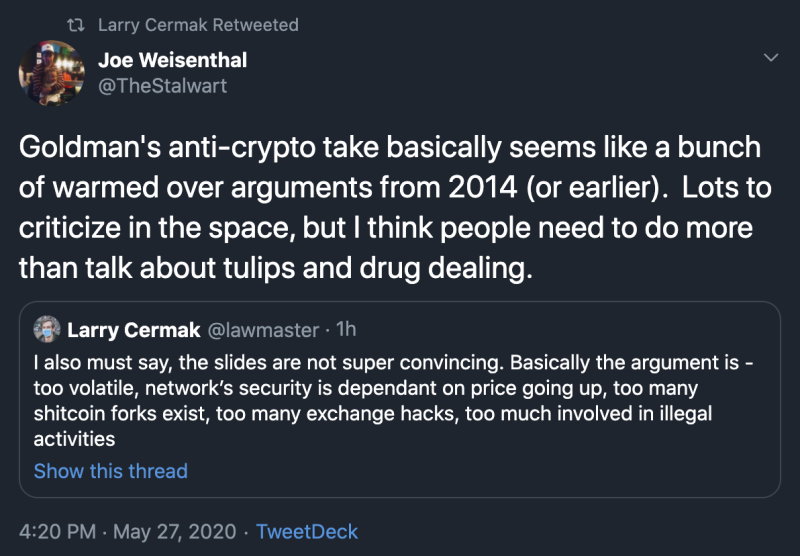 Joe Weisenthal's Reaction To Larry Cermak's Tweet.
Meanwhile, the infrastructure for institutional players in the crypto space is being actively developed, given the looming advent of products like Genesis Prime. This may point to the increasing interest from institutions in cryptocurrencies despite warnings from companies like Goldman Sachs.