Changpeng Zhao, CEO of Binance, released a statement commenting on the debacle around STEEM. In short, Binance will support the upgrade that nullifies some of the wallets' worth.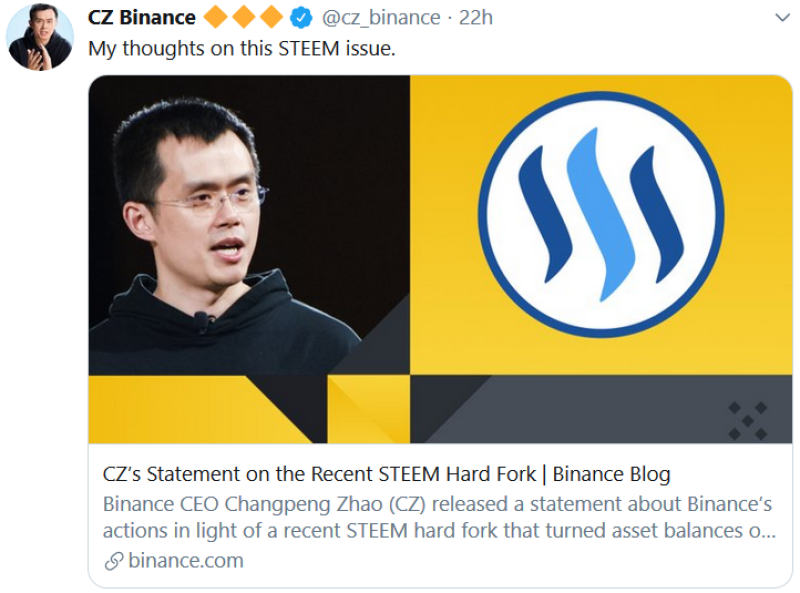 Image source: @Cz_Binance twitter
STEEM community has been going through tough times past several months. Recently, the disruption in the community was taken to another level with the new upgrade of the network.
The upgrade is a hard-fork, which makes it mandatory. If a node is not updated, it will not be able to interact with the blockchain. The most controversial of it is that it erases wallet holdings of some users.
The nullified wallets belong to people, whom STEEM accused of criminal activity. The total value of erased funds tops $6 million, according to one of the victims. Another victim stated that there was no proof of criminal activity provided by STEEM.
As CZ explained, Binance had to choose between ignoring the upcoming update and proceeding with it. The exchange's leader stated that while he is against modifying blockchain, Binance should let unaffected people have access to their tokens.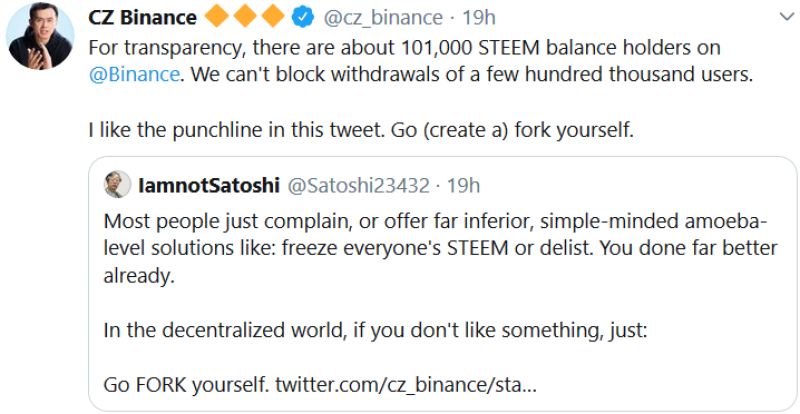 Image source: @Cz_Binance twitter
CZ highlighted that other exchanges also adopted the new update. STEEM users were asking Binance to follow their example.
As a way out for the update victims, CZ offered creating a fork that Binance is likely to support. He stated that if there was a fork in the first place, Binance would resort to it if it would be a reasonable one.
CZ also replied to the famous blockchain proponent, Andreas Antonopoulos, who thinks that there may be a class action lawsuit against STEEM and the exchanges supported the upgrade. CZ said that in a decentralized world 'anyone should be able to support any fork'.
CZ summarized his opinion by reminding readers about the implications of decentralization. His point of view is that  there are issues to be solved by all players on the market together.