Brendan Blumer, CEO of Block.One, recently tweeted that he is going to personally steward the development of the EOS ecosystem through EOS VC. This update points to the likelihood of new startups appearing under the EOS umbrella.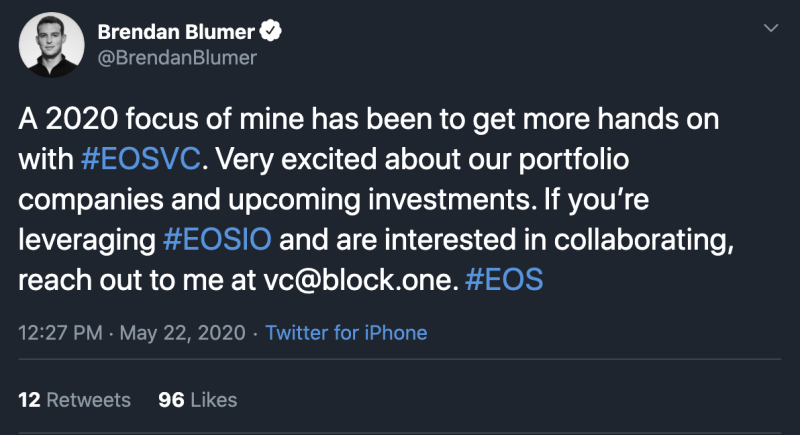 Brendan Blumer's Tweet
Ecosystem Is The Key
Layer 1 solutions, such as Ethereum, EOS, Tron and others, are in the permanent race for leadership in the blockchain space. There have been waves of applications launched atop them that contributed to this race, like decentralized apps and decentralized finance.
Teams behind layer 1 blockchains have various strategies of pushing their platforms to acquire more users. Block.One, the company behind EOS, set up a venture capital fund EOS VC to facilitate the growth of the ecosystem.
The most notable thing about EOS VC is its deep pockets. At the time of its initiation, the fund had as much as $1 billion to invest in startups.
Currently, the fund offers grants and hosts hackathons. One of the largest outcomes of the fund's work is the social network Voice, an alternative to the popular social networks with an integrated reward system.
Money Does Not Equal Growth
With deep pockets and Block.One's CEO at the wheel, EOS VC is likely to contribute to the expansion of the EOS ecosystem. Still, there are caveats, given the experience of competitors.
For instance, the viability of Joseph Lubin's ConsenSys focused on growing Ethereum's ecosystem, was questioned several times because of the low returns on its investments. Another example would be the recent acquisition of STEEM by Justin Sun and the subsequent backlash from the community.
The blockchain space has numerous moving parts and just brute-forcing growth with money does not seem to help. How Brendan Blumer's team will distribute EOS VC's resources will determine whether EOS will expand its user base in 2020.