Gold futures soared on Tuesday while still considered a high-yield investment. This comes as dollar losses and low government bond yields have supported a number of lucrative metal markets, which some analysts see as a bullish trend.
Analogies of profitability with past years give every reason to believe that in the future, gold may behave the same way. Mike McGlone, an analyst from Bloomberg, believes that over the next 5 years, gold can reach the $7,000 mark.
#Gold Set for $7,000 in 2025 If Trends Stay Friendly Like 2001-11: Gold is on sounder footings than at the onset of the 2001-11 and post-financial-crisis bull markets, warranting a rhyming rally, in our view.   Mike McGlone, @mikemcglone11 via Twitter
Equity investors have drawn confidence from the prospect of COVID-19 vaccination, a blant consideration for bullion, but the expectation of the forthcoming US presidential election in November has also improved gold's acquisition.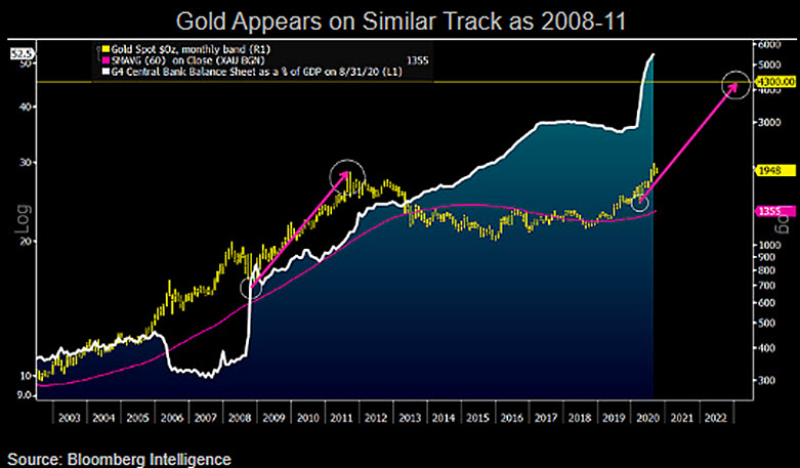 Image source: Twitter @mikemcglone11
Lower public debt yields make gold more persuasive for investors to compare Treasury investments and lower dollars can make it more appealing for international buyers to buck-packed cash.
Looking forward, at the close of their two-day policy meeting on Wednesday, markets are awaiting a fresh policy change from the Federal Reserve. Additional signs suggesting that the central bank will hold rates lower for longer will add steam to the bullish argument about gold and silver.
Provided that coronavirus remains high and no efficient vaccines have yet to be authorized, these central banks would likely suggest to the market that they are willing, if appropriate, to provide further stimulus.