Javier Blas, Chief Energy Corresponded at Bloomberg News, recently illuminated the U.S. Crude Oil Rotary Count chart. With socio-economic changes on the global scale, oil producers may struggle to recover.
The demand is declining 
The oil rig count highlighted by Javier represents how many drilling facilities are currently active. The sharp decline in their number reflects that there is less oil production in the country by week.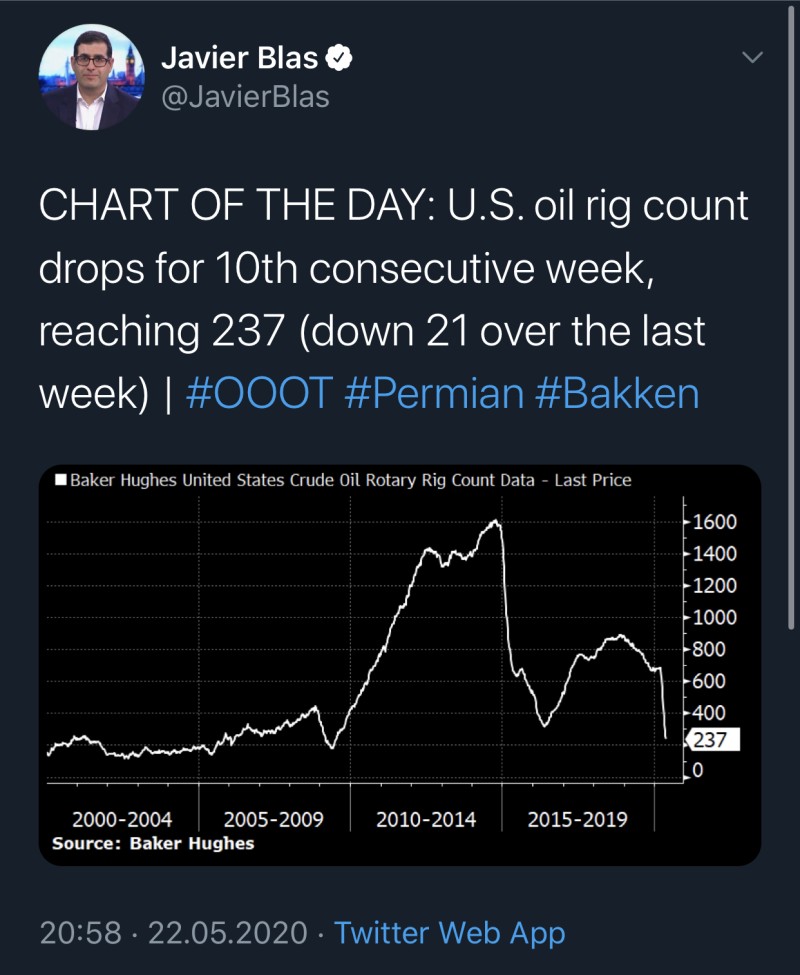 Javier Blas's Tweet about the U.S. oil rig count
For a few months so far, countries have been putting their economies on pause, this includes travel, and trade. People have been staying at their homes as well, therefore using private and public transportation less than before.
Government restrictions and self-isolation led to a substantial decline in demand for oil. The recent debacle around the OPEC agreement, on the other hand, caused excessive supply.
Given the supply and demand imbalance, oil prices took a hard hit. Futures for the commodity even went negative.
The decline is likely to be prolonged 
While the prices have since recovered, the tough times for oil may not be over. The global economy is still largely paralyzed. Moreover, some people and even countries are going green and tend to favor renewable energy more.
One of the popular topics of discussion amid the muted business activity is how much the ecology has recovered from the negative impact of humans. There are numerous reports pointing at less pollution and showing pictures of the blue sky.
Countries are adopting the narrative and investing in renewable energy sources. For instance, Spain started the construction of wind farms a few days ago.
The car market is transforming as well. Producers like BMW are exploring electric engines and Tesla doesn't offer any gas-powered cars.
Generation evolution also does not favor oil in the long term. Greta Thunberg is a hero to Gen Z, the future consumers.
The ongoing changes in society and the economy create new challenges for oil. Producers will have to redefine their approach in the face of the new normal.