IBIS Management Associates Inc. recently announced that it has allowed its customers to connect to RippleNet, a payment technology and a consultancy company. Users can access SWIFT, the international payment network, via the SWISSRoute service established by IBIS.
A cloud-based infrastructure facilitates the development of the 'adapters' linking specific payment networks to the conventional financial system. Consumers of the service, therefore, provide connections through a common portal to many financial institutions. This program simplifies and automates market flows, thereby improving the interbank connection. The software uses national structured ISO and proprietary (MT) communications. IBIS claims consumers have additional advantages:
With SWISSRoute you don't need to acquire or license any of the proprietary SWIFT hardware and software required to connect to their network. Instead, you can leverage our secure cloud-based services. Our infrastructure is compliant with SWIFT's security and business continuity standards and we manage all of the upgrades so that you can take advantage of all of the latest SWIFT capabilities. From IBIS report
IBIS claims that businesses operating in a multibank world that requires a digital payment system are a perfect client for the use of the new converter with RippleNet.
Are SWIFT and Ripple on the same platform?
IBIS announced that its customers would connect to Ripple and SWIFT. IBIS reported that this way it has unlimited banking options for its customers. Customers of SWIFFRoute will accept payments using RippleNet and a banking interface "out of the box."
All clients are provided with cross-border payments that are stable, direct and almost instantaneous. A unified API for all return links. Finally, a network of worldwide banks with known rules and norms.
How Did the Price React to the News?
Despite several attempts to grow, none of them rose above $ 0.32. For some time this week, price action has been limited to the $0.30 level, with the exception of a shallow surge above $0.30 on Wednesday.
At the time of writing, XRP/USD is trading at $ 0.2992 after holding slightly below $0.30. The growing bullish momentum suggests that XRP may continue to scale levels towards the critical resistance of $0.32.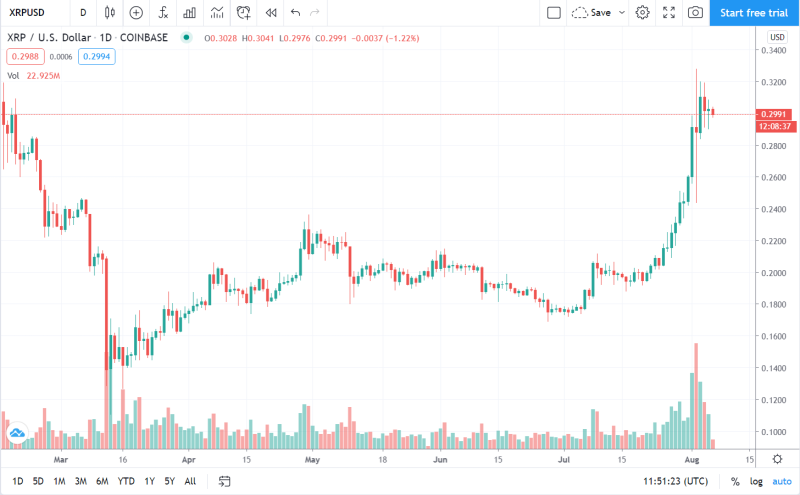 Image source: TradingView XRP/USD